Special Cargo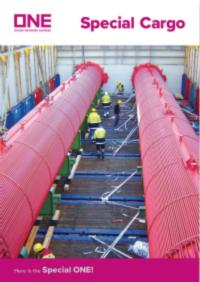 About ONE Special Cargo
Our name conveys our integrity as a company-three leading marine transport companies working together to spark a revolution. We have a long rich history and experience to handle your special cargo.
At ONE we have dedicated and experienced teams to transport all types of special cargo whether our customers are moving vehicles, yachts, small plane, oversized machines, large factory components or construction equipment.
ONE employs special cargo specialists who have the knowledge and expertise to ensure that your special cargo is shipped safely and efficiently to destinations around the globe.
ONE is the ideal partner to move your special cargo with our extensive port coverage through the global network, on-time shipping schedule, well balance equipment supply and tailor made customer service.
"Is your special cargo among one of the below types?"
1. In Gauge cargo (IG)
Your special cargo can be stuffed in a single Flat Rack or Open Top container without exceeding the container internal dimension.
2. Out of Gauge cargo (OOG)
Your special cargo can be stuffed in a single Flat Rack or Open Top container with exceeding the container internal dimension.
Either by width or height or even both for our Flat Rack and only by height for our Open Top container.
3. Break Bulk cargo
Your special cargo will be loaded on top of a bed of Flat Racks (more than one Flat Rack; side by side) because cannot be stuffed in a single Flat Rack or Open Top container. For example, this includes large luxury yachts, factory components, oversized machines, trains, construction equipment, generators, etc.
"Your excellent partner for project shipment with our special container and tailor made solution"
ONE promise to deliver your special cargo to the destinations in your ideal way and schedule with reasonable cost by providing;
- Accurate space planning that special cargo prioritized.
- Sufficient equipment supply backed by huge container fleet and most efficient flow planning.
- Solutions with the most competitive cost offered by our sales.
- Most professional and safety-oriented specialists that treat your cargo as our personal belongings.
- Most considerate customer service that make you feel comfortable from the very first moment you make an inquiry to ONE.
"ONE special equipment is ready to serve"
Open Top
Open Top containers have removable canvas or tarpaulins instead of a solid roof.
They are perfect for your special cargo that is easily loaded from the top.
Flat Rack
Flat Rack units have only a floor and walls at the front and rear. They have lashing rings in many location, making it easy to secure your special cargo.